Robinson R44
www.robinsonheli.com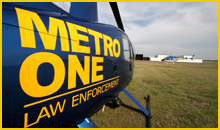 The four seat Robinson helicopter is the worlds best selling helicopter for a reason. It is simply the best at operating safely and very efficiently in a variety of light utility roles and economical helicopter transportation. The R44 cruises at about 120 mph and is ideal for aerial photography, survey and inspection.


We operate 3 different models of the R44 including: The R44 Raven, The R44 Electronic News Gathering Helicopter, and the R44 Police Helicopter.
The R44 ENG helicopter includes:
Full 5 axis stabilized HD video with an Ikegami HDL-25 camera and Canon HJ22 HD 22x lens.
It also includes a Panasonic P2 HD Mobile recorder and BMS digital helicoder microwave downlink.
The ENG helicopter can accommodate a pilot, cameraman and passenger with a seat limit of 250lbs.
The R44 Police helicopter includes:
Stabilized Forward Looking Infrared camera and color camera
FLIR Ultra 8000
digital recording deck
SX-5 Night Sun Search light
PA and siren system
Multi-band law enforcement radio system
Street level moving map and guidance system
The police helicopter can accommodate a pilot, tactical flight officer, and 1 additional observer.
The R44 Raven
Cruise Speed: 120 mph
Number of Passenger Seats: 3
Comfortably accommodates 2 to 3 passengers and pilot
Maximum passenger weight per seat: 300lbs (250lbs in front passenger seat of ENG helicopter)
Allowable payload (pax and baggage), 100 nautical mile range with reserve: 650lbs
Allowable payload (pax and baggage), 200 nautical mile range with reserve: 565lbs
Allowable payload (pax and baggage), 300 nautical mile range with reserve: 470lbs