Bell 206L 3 Long Ranger
www.bellhelicopter.textron.com
The Bell Long Ranger provides a larger cabin and an exceedingly smooth ride. It is one of the most versatile helicopters ever produced and is very capable of fulfilling a number of corporate and utility needs.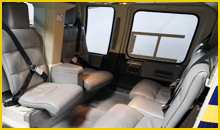 Our Long Ranger includes the following mission, comfort and safety equipment: Full Environmental Control System with heat, defrost and air conditioning, leather seats with crew and passenger safety harnesses, crew and passenger wedge windows, high visibility pulse lighting and high visibility rotor blades for safety, Wire Strike Protection System, Satellite flight tracking, on board GPS based NEXRAD radar, and state of the art GPS based navigation system.

Cruise Speed: 130 mph
Number of Passenger seats: 6
Comfortably seats: 4-5 passengers
Allowable payload (pax and baggage), 100 nautical mile range with reserve: 1000lbs
Allowable payload (pax and baggage), 200 nautical mile range with reserve: 760lbs
Allowable payload (pax and baggage), 300 nautical mile range with reserve: 550lbs