Electronic News Gathering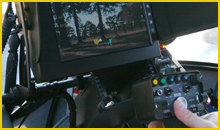 Mercury Aviation offers turnkey electronic news gathering services. We have served the NBC affiliate, WLBT, in Jackson, MS with a dedicated news helicopter for more than a decade with safe and reliable service. We have also worked with ABC, CBS, and FOX. Our state of the art news helicopter is a turnkey solution for providing stunning fully stabilized HD video with microwave downlink capability anywhere in our coverage area. We can respond quickly to cover major news events from hurricanes, ice storms, infrastructure disruptions such as interstate accidents or train derailments. Our rapid deployment, central location, and complete news package insures we can be first on scene to many major stories and can get the coverage you need. We provide everything needed to get the story including pilot, camera operator, reporter, and all related cameras and equipment. We have covered a number of major national news events including numerous hurricanes. We provided the first aerial images of Hurricane Katrina from the Mississippi Gulf Coast and continued to provide footage for a number of broadcast agencies from Mississippi and New Orleans for weeks after the storm.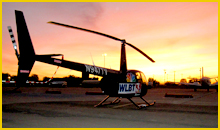 Our state of the art Robinson R44 HD ENG helicopter not only provides turnkey breaking news coverage, it is also ideal for providing the most affordable and efficient fully stabilized HD video for commercial production, sporting events, documentaries, industrial video, environmental assessments, and construction project management. Our customers include:

Mississippi Public Broadcasting, FLW Bass Tournaments, Offshore Super Series Powerboat Racing, The Golf Channel, NBC Sports, NASA, Mississippi Department of Transportation, Entergy, The Southern Company, The Discovery Channel, Mid Continent Express Pipeline, National Geographic.

Portfolio Clips
Independence LCS 2 Video
Mississippi | Gulf Island National Seashore Demo
Cropduster Demo

Clients and Partners
www.wlbt.com

www.aerialfilmwork.com
www.offshoresuperseries.com
www.flwoutdoors.com
Our ENG helicopter includes the following equipment:
5 axis gyrostabilized gimbal nose mount

Ikegami HDL-25 camera system

Canon HJ22 HD 22x lens

HD Laptop controller

9" HD monitor and hood

Console mounted V.U. meter

Forward interior and tail mounted SD lipstick cameras

Digital off air t.v. tuner

Dual forward SD monitors

BMS Heli-coder II SD digital transmitter

Panasonic P2 HD Mobile recorder with native 1080/24p recording

4 channel vertical interval switcher