FAR Part 135 Charter Operations


Mercury Aviation provides helicopter charter services throughout the southeastern U.S. Our helicopters are ideal for getting you where you need to go like no other transportation alternative.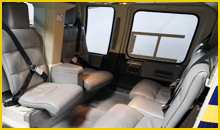 Whether you need to transport VIP's to the New Orleans Superdome, take investors to inspect development property in Memphis, move a group of doctors to a remote clinic in the Mississippi Delta or simply need to get anywhere when time is critical and flexibility is essential, we are your provider. We can help arrange any type of aircraft charter that you require. Contact us to discuss how we can customize a charter to meet your unique needs.