Airborne Law Enforcement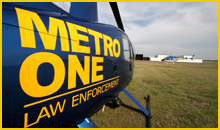 We provide turnkey aerial law enforcement air support packages to law enforcement agencies. We can also assist with Tactical Flight Officer training, Pilot training and Air Support Unit consultation and support.


Through our dedicated Air Support Unit, Metro One, we serve the greater Jackson Metropolitan law enforcement agencies with a turn-key complete helicopter program. We provide aerial law enforcement services for the Sheriffs' Departments of Hinds and Madison Counties, the police departments of the cities of Jackson, Madison and Ridgeland, and The Reservoir Patrol.